Please be advised that the hot spring is currently not available due to its temperature staying too low. We are inspecting possible causes and continuing the recovery work.
We apologize for any inconvenience.
During our maintenance period, we offer following options for our guests;

1. Our common bath space is partly open, and the big bath tab will be filled with hot water instead of hot spring. (The outside bath is not open during the maintenance.) The common bath space is open for one gender at a time hourly; we ask female and male guests take turns to use the common bath space for pre-set hours.
2. We offer courtesy car to a nearby hot spring, about 10 minutes ride, for our guests who would like to enjoy hot spring.

We will make an announcement about the date when the maintenance is completed. Seisen-Ryo will continue serving you for your comfortable stay, preparing tasty meals and cozy fireplace. We offer sincere appreciation for your understanding and support. Thank you very much.

March 24, 2017

| | |
| --- | --- |
| Components of the water | sodium, magnesium, carbonated water (low osmosis, weak alkalinity, high temperature spring) |
| Efficacy | neuralgia, muscular pain, joint pain, stiff shoulders, chronic digestive trouble, poor circulation, recovering from exhaustion, promotion of health, burns and scalds, and dermatitis. |
| Service hours | 15:00~23:00(23:30 close)・6:00~9:00(9:30 close) |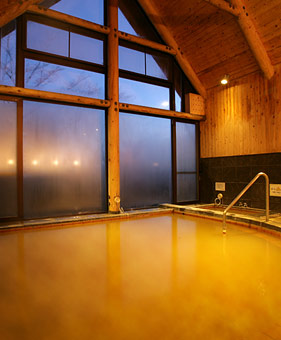 The hot spring is available for the exclusive use of all guests staying at Seisen-Ryo Lodge and Cottages.

Page top
---